We are happy to announce that Menara Ventures has invested in LeO, an AI-powered conversational sales assistant for insurance agents and brokers. The financing round was co-lead by iAngles and joined by additional investors such as Unicorn Technologies.
Liri Halperin Segal founded LeO back in 2017 following a bad personal experience with her insurance agent. Looking into the reasons for the disappointing level of service she received, she discovered that insurance agents' technological work environment hasn't significantly changed in twenty years, and has not been adapted to modern methods of operation. This results in huge inefficiencies and loss of business opportunities. As an experienced entrepreneur, Liri had identified an opportunity and embarked on a mission to transform the way insurance professionals work. She quickly became a passionate thought leader in digital transformation within the InsureTech space, and is a sought after speaker at international conferences and events. Liri was named among the top ten InsureTech leaders of 2020 by Acord, a non-profit industry-owned global insurance industry organization.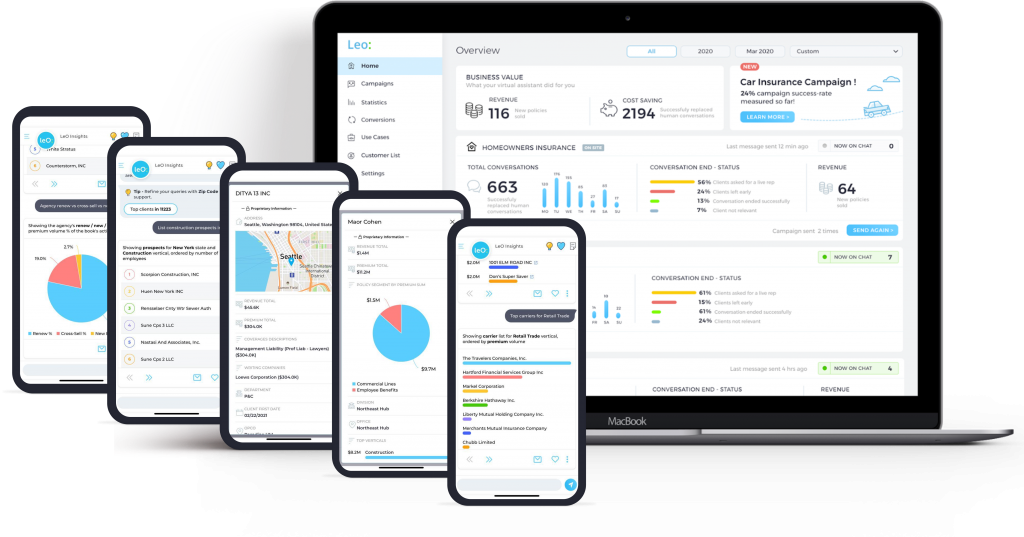 What LeO offers
LeO is an AI-powered, smart personal assistant for insurance agents and brokers. It collects and analyzes existing customer data and enriches it with data from external sources in order to help insurance agents and brokers sell more, provide world-class personalized and relevant customer service, and at the same time cut their costs and identify new business opportunities. LeO's SaaS solution seamlessly integrates with the agency/company's IT systems, automates processes from A-Z, provides smart insights, and acts upon them. LeO's AI engine turns the agency's book-of-business and prospects' sources into a searchable interface, introducing facts, intelligence and sales information in free-text querying. LeO can be used via a mobile app or a desktop application.
Why we invested in LeO
The insurance agents' market is estimated at $185 billion USD in the United States alone. However this is a traditional market in which the legacy systems have not as yet gone through digital transformation. In a data-led industry such as Insurance, inaccessibility and ineffective use of data by insurance agents, brokers and managers, represents a huge opportunity for disruption.
When we first met Liri Halperin Segal (LeO Founder and CEO) and her executive team: Orit Golbari (COO), Saar Miron (VP Product), and Shmuel Gutman (CTO), we were very impressed with the level of innovation and the size and type of partners and customers the company had attracted.
We believe that LeO is transforming the work environment for insurance professionals and will become a dominant player in the evolving InsureTech space.